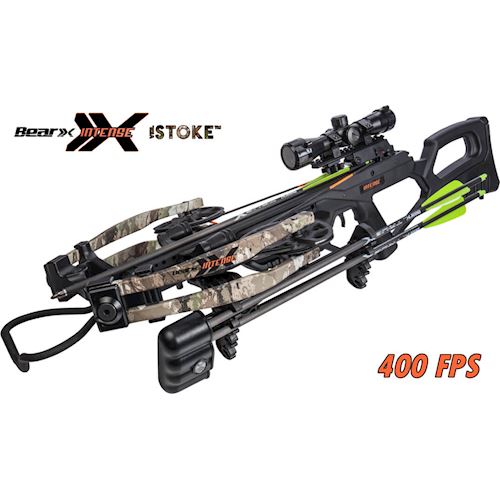 COMPOUND CROSSBOW
55M199
CROSSBOW BEAR X INTENSE VEIL STOKE CAMO 400FPS
Perfect for crossbow hunters in tight quarters, the Constrictor's narrow dimensions and blazing speeds of 400 fps deliver lethal results without draining your wallet. Living up to its name, the Constrictor measures a mere 10" wide cocked and 14" wide uncocked. The ambidextrous top mount 5-arrow quiver sits on a 360-degree pivot allowing the hunter to position the quiver on the right- or left-hand side of the crossbow and parallel to the bow. Premium finishes including the adjustable cheek pad, anti-dry fire device, and 3" of trigger pull adjustment complete this crossbow package. The Constrictor comes ready to hunt with 3 Bear X TrueX arrows, top mount 5-arrow quiver, illuminated scope, sling, cocking rope, and rail lube / string wax.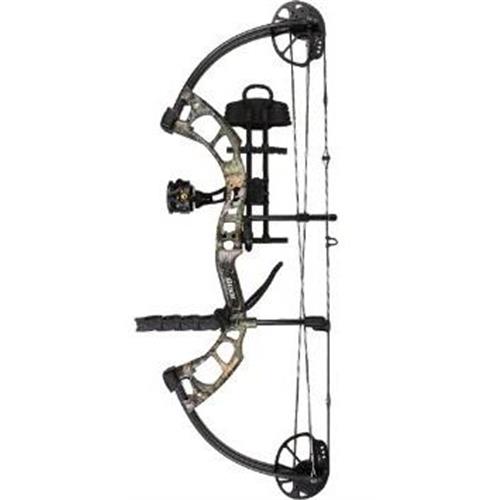 COMPOUND BOWS
55E950
COMPOUND BOW CAMO BEAR ADJUSTABLE CRUZER 5-70LBS NEWS VERSION

- BRAND BEAR
- COMPOUND SPORTS BOW IN ALUMINUM
- CRUZER MODEL
- CAMO COLOR
- ADJUSTABLE FROM 5 to 70lbs

-TECHNICAL FEATURES:
-REGULATION FROM 12 "TO 30" ON THE HALL
-LIBRAGGIO: 5-70lbs
-LET OFF 75%
-RISER IN FORFORATED ALUMINUM
-FLEXIBLE FIBER GLASS FLEXIBLE
- X-TRA PAINTING
-LAST-GENERATION ULTRARESIST COLUMN COLUMN
-stopper SHOCK ABSORBER FOR ROPE
- ANATOMIC HANDLE FOR RIGHT HAND
-COMPRESSED OF SIGHT AND SUPPORTS FERECCIA
-SIGHTWITH 4 PINS FIBER OPTIC WITH ADJUSTMENT
- REST REST ARROW
- STABILIZER AND SLING
-QUIVER

DESCRIPTION:
The Cruzer is specifically designed to meet the needs of any archery.
From the smallest to the adult, this bow really fits everyone.
This is thanks to the ability to adjust the length from 12 to 30 "and the power from 5 to 70lbs.
Arrow exit speed at 310 feet FOR second.
Furthermore, this bow is sold fully equipped with high quality Trophy Ridge accessories.

CAUTION:
!!! DO NOT CALL AND RELEASE THE ROPE WITHOUT AN ARROW !!!
!!! IT IS FORBIDDEN SALE TO MINORS OF YEARS 18 !!!