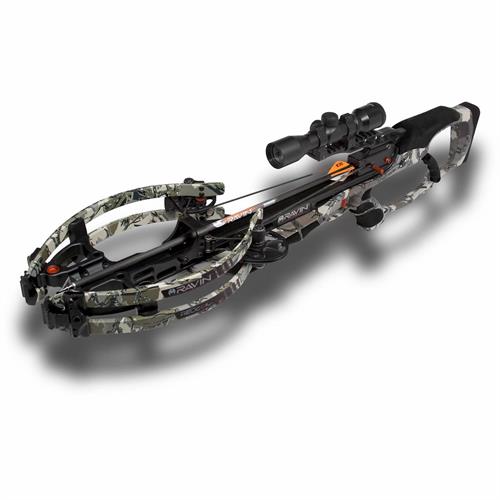 COMPOUND CROSSBOW
55H869
CROSSBOW RAVIN R9 PREDATOR FULL KIT NEWS 2017

- BRAND: Ravin Crossbow
-MODEL: R9 Predator

CROSSBOW COMPOUND
Libraggio: 185 pounds of load
Speed: 390 feet FOR second
Weight: 3130 grams
Length: 87.63 cm
Width: 26.7 cm
Power stroke: 13 "

World news Ravin intBARRELuces its latest creation the R9 Predator.
Predator R9 is a crossbow that is very different from any other crossbow on the market that is unique of its kind.
Powered by Helicoil technology, this revolutionary crossbow has several design advantages that provide unparalleled precision with every shot.

What distinguishes the Ravin crossbows is their elegant design very similar to that of a rifle.
With an incredible axle / axle SIZE of only 15 cm with full traction, the Ravin R9 is the smallest and narrowest crossbow on the market and it is also a concentrate of speed, power and precision.

This revolutionary design creates an incredibly compact crossbow full of innovative features.

This wonderful crossbow stands out on the market for 4 strengths:

Helicoil ™ technology
Helicoil technology is able to keep cables away from both the top and bottom of the cams in helical grooves keeping the cams PERFECTLY balanced.
In this way the cams are able to rotate by 340 degrees, while both cams remain PERFECTLY level during the preparation and shooting with the crossbow.

Frictionless ™ Flight System
This technology allows the arrow and the rope to float above the crossbow guide, eliminating friction, ensuring constant precision and longer rope life. This unique HeliCoil advantage provides unparalleled precision.

Trac-Trigger ™ Firing System
Loading mechanism that slides forward on the guide and stops directly at the exact center of the rope. This unique Helicoil advantage creates a PERFECTLY balanced draw.

Versa-Draw ™ Cocking System
One of the revolutionary design advantages provided by HeliCoil technology is the Versa-Draw system. Working in combination with the Trac-trigger system this ultra-compact fully integrated weapon mechanism is built with an elegant design.
The crossbow loading system is characterized by an effort of only 10 pounds completely ambidextrous.
This unique Helicoil advantage provides easy use and a fully integrated loading system offering unparalleled precision.

Supplied complete with the package that includes:
• Professional telescope
• 6 Ravin darts complete with spikes
• Quiver


CAUTION:
!!! DO NOT CALL AND RELEASE THE ROPE WITHOUT AN ARROW !!!
!!! IT IS FORBIDDEN SALE TO MINORS OF YEARS 18 !!!












Availability
Not Available
€
1685,00